About Electronic Computer Services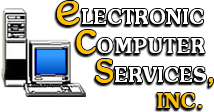 Electronic Computer Services, Inc. is a family-owned and operated computer business with a focus on personalized service and support. We are located in Woodhaven, MI and currently service the Southeastern Michigan (downriver) area. Our business was established in 1994.
Our Experience
With over 30 years of experience we specialize in PC repair, hardware installation, remote support, web design, malware & virus removal and data recovery. Our custom-built PCs and quality servers are designed with quality and reliability in mind.
Our Clients
We provide services to a variety of government agencies, professional and industry associations, sporting and community groups and many private sector organizations.
For the past 20 years many downriver cities have contracted our services and utilize our computer systems for their municipal, fire and police departments; We currently serve as I.T. Specialists for many of these communities. ECS, Inc. has also been contracted to do jobs at the county and state level.
While the majority of our clientele reside in the state of Michigan, we serve many out-of-state customers as well via our convenient internet-based remote web support.
Web Design Services
Even though the bulk of our services revolve around computer hardware and software, a large part of our business focuses web design and hosting. We have the in-house skills and experience to undertake all aspects of your website design and development. Whether yours is a major corporate site or applies to a small home-run business we'll ensure that you have a functional website that clearly and attractively presents your organization to the world.
We were recently awarded for one of our city department websites; This site as well as others can be linked to by visiting our web design page.
Remote Web Support
ECS, Inc. also provides Remote Web Support that allows us to solve most minor computer issues without having to dispatch a technician to your location. While we do accomodate in-shop computer service, many of our clients utilize Remote Web Support for quick and efficient repairs without unnecessary downtime.
Service Locations
We service the downriver southeastern Michigan area including:
Allen Park
Belleville
Berlin Charter Township
Brownstown Charter Township
Ecorse
Flat Rock
Gibraltar
Grosse Ile Township

Huron Charter Township
Lincoln Park
Melvindale
New Boston
River Rouge
Riverview
Rockwood
Romulus

Southgate
South Rockwood
Sumpter Township
Taylor
Trenton
Van Buren Charter Township
Woodhaven
Wyandotte