Disaster Recovery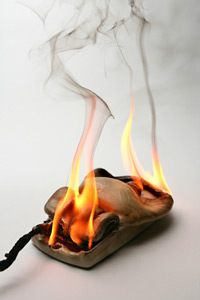 If your computer suffers a catastrophic failure due to a virus or spyware infection, corrupted operating system or malfunctioning hardware components, our "Disaster Recovery" solution provides you with a complete computer repair solution.
Under these extreme circumstances, an ECS technician will attempt to retrieve data, remove viruses and spyware from the recovered data, diagnose any malfunctioning hardware, re-install your operating system and provide you with the protection you need to prevent such events from occuring in the future.
Services include:
Free Data Backup and Restoration up to 10GB (additional data backup incurs a fee)
Examination of the recovered data to remove viruses and malicious software
Diagnostics and Tests on Computer Hardware

*

Re-Installation of your Operating System

**

Startup/Shutdown Optimization
Browser Reconfiguration
Registry Cleanup
An Anti-Virus Security Suite

***

will be installed, updated and configured to protect your PC. You will be instructed how to use the software if necessary.
* - A physical examination of the computer will be performed by an ECS Technician, followed by diagnostics used to determine if there are any malfunctioning hardware components in the PC.
Malfunctioning components will either be removed or replaced depending on their importance in maintaining a functional computer system. If replacement components are necessary, the Technician will give you an estimate on replacing the item(s) with new or refurbished hardware.
** - You must provide us with a genuine operating system license key (usually affixed to your computer's case) before installation can begin. Failure to provide this key will prevent us from rendering this service to you. Always keep your CD-Keys and Serial numbers protected and do not share them with anyone.
*** - The Anti-Virus Security Suite that will be installed on your PC will be determined at the time of service. The brand, version, and type of software that we install is chosen based on the performance of available software suites, quality of virus removal and protection, and the unique needs of each client. If you have any questions, please ask us about our current security suites.