E-mail Installation/Configuration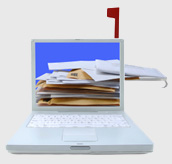 An ECS Technician will install and/or configure an e-mail client of your choice. This service requires that you have an active e-mail account.
Services Include:
Installation/Configuration of e-mail client for up to 5 different addresses
E-mail Send and Receive Verification
Remote Service
In many cases, this service can be provided remotely. This saves you time and money as you do not need to bring your PC to us or have a technician dispatched to your location.
If you are interested in remote service, please contact us.
Note: Remote Service requires a broadband Internet connection to perform properly. Connections that are slow or unstable may prevent us from performing services remotely. In these cases, you may bring your computer to us for service. Remote Service can be performed on any computer system connected to the Internet, most anywhere in the world.