Diagnosis & Removal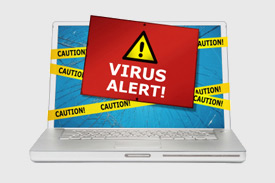 An ECS Technician will examine your PC to determine if any infections exist. If infections are detected, attempts will be made to remove them without compromising your data. If successful, your PC will be returned to an operational state.
If no security software is operating on your PC or if the current software in use is inadequate, we recommend our "Diagnose & Removal plus Protection" service as it will provide you with the necessary security to keep your PC safe.
In the event that your PC has been heavily infected, the operating system may become unstable or vulnerable to future virus infections and infections may even return after removal. In these extreme cases, our "Disaster Recovery" service is there to provide you with a complete computer repair solution.
Services include:
Examination of the PC to detect viruses and malicious software
Startup/Shutdown Optimization
Browser Reconfiguration
Registry Cleanup
Temporary File Removal
Removal of viruses and malicious software if possible
A final assessment of the security of your PC and recommendations to increase security if they are deemed inadequate
Remote Service
In some cases, this service can be provided remotely*. This saves you time and money as you do not need to bring your PC to us or have a technician dispatched to your location. If you are interested in remote service, please contact us.
Note: Remote Service requires a broadband Internet connection to perform properly. Connections that are slow or unstable may prevent us from performing services remotely. In these cases, you may bring your computer to us for service. Remote Service can be performed on any computer system connected to the Internet, most anywhere in the world.
* - Certain Remote Services such as Spyware/Virus removal cannot always be completed remotely depending on certain circumstances such as but not limited to: insufficient internet connection speed, virus or spyware infections that prevent the technician from completing the service and/or hardware issues.
If an ECS Technician is unable to complete service remotely, the PC may be brought to our shop for further servicing at no additional charge**. If you are unable to bring your PC to our shop, on-site Service can be requested for an additional charge.
** - No additional charges will be incurred for in-shop service so long as the services performed fall within the scope of the originally requested services. If additional services are required to complete repairs on your PC, an ECS Technician will contact you before completing service to discuss your options.